WELCOME TO THE UTILITY SIMULATOR USERS GROUP WEBSITE!
The Utility Simulator Users Group (USUG), established by the member nuclear utilities, promotes safe and reliable operation of nuclear electric generating plants through the improvement of simulator maintenance, modification, fidelity and through promotion of use of the simulator within the training programs.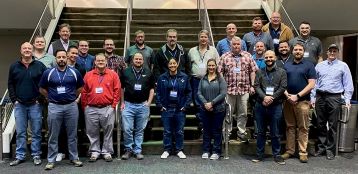 "We are the USUG"
USUG General Membership Meeting
January 25, 2023
Pasadena Convention Center - Pasadena, California
The organization promotes cooperation and the exchange of information among its members. USUG encourages discussions among its members on subjects relating to simulator configuration control, performance, fidelity, maintenance, reliability, and training. USUG supports the simulator-related training activities of the National Academy for Nuclear Training, the Institute of Nuclear Power Operations, and the World Association of Nuclear Operators.

Membership Login.
LATEST UPDATES:
11/29/22
Kashmir Singh of EDF Energy provides a benchmark survey regarding Simulator Instructional Staffing, United States industry requirements for Operations Training Initial & Continuing Training Programs, Glass Panel Use in Just-in-Time Training, and Computer-based Training for Operations Training Initial & Continuing Training Programs. View Now
04/28/21
Kashmir Singh of EDF Energy has provided a Digital Twins at Nuclear Power Plants survey. View Now
03/18/21
Jim Florence of Cooper has provided the 2021 USUG Executive Board Virtual Meeting Minutes. View Now
03/05/21
Jim Florence of Cooper has provided the 2021 USUG Virtual Meeting Minutes. View Now
02/02/21
Jim Florence of Cooper has provided the 2021 USUG Meeting Regional Reports. View Now